Austrian Gold Ducat Coins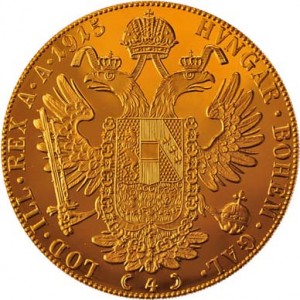 You can now buy the Austrian Gold Ducat Coin in Ireland through National Gold and Silver. We supply one of the most recognised gold coins directly to customers across Ireland from our bases in Dublin, Cork and Galway.
Originating in medieval Italy, the Ducat was first struck in Austria in the early 16th century. The Ducat lost its status as legal tender in 1857 but both 1 and 4 ducat coins were used for trade until 1915.
The profile of the Emperor Franz Joseph, who ruled the Austro-Hungarian Empire for 68 years appears on the coin's obverse.
To order your Austrian Gold Ducat Coins today please call us in Dublin on (01) 525 3444, in Cork on (021) 242 7965 or in Galway on (091) 730 856.
Austrian Gold Ducat
Fineness: .986 2/3 or 23.68 karats
Denominations: 4 and 1 Ducat
4 Ducats
Gold Content: 0.443 troy oz.
Fineness: .986 2/3 or 23.68 karats
Weight: 0.4489 troy oz
Diameter: 39 mm
1 Ducat
Gold Content: 0.1107 troy oz.
Fineness: .986 2/3 or 23.68 karats
Weight: 0.1122 troy oz
Diameter: 19.6 mm