American Eagle Gold Coins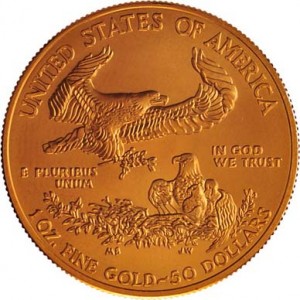 American Eagle Gold Bullion Coins
You can now buy the American Eagle Gold Coin in Ireland through National Gold and Silver.  We supply one of most recognised gold coins directly to customer across Ireland from our bases in Dublin, Cork and Galway.
The American Eagle Gold Bullion Coin is produced from gold mined in the United States.  All American Eagles state on the coin the amount of pure gold contained.  The obverse (front) design is based on the design of one of America's most famous coins, the Augustus Saint-Gaudens' $20 gold piece, which was minted from 1907 to 1933.   The reverse design, is by the sculptor Miley Busiek and features a male eagle carrying an olive branch flying above a nest containing a female eagle and her hatchlings.
The American Eagle is the only bullion coin whose weight, content and purity are guaranteed by the United States Government.  Investors can buy these bullion coins with confidence, knowing the coins contain their stated amount of gold.
To order your American Eagle Gold Coins today please call us in Dublin on 01 525 3444, In Cork on 021 242 7965 or in Galway on 091 730 856.